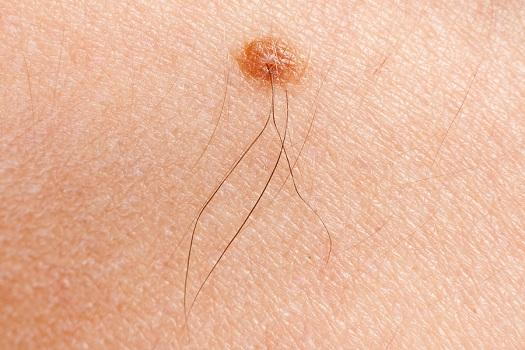 If you're at a higher risk of skin diseases like melanoma or carcinoma, it's important that you watch the moles on your skin. Abnormal cells can grow inside of moles, even if they've been fine for many years. If a mole suddenly starts changing in appearance, schedule an urgent checkup with a Port Orange and Daytona Beach, FL, dermatologist at the Heller Dermatology Center.
About Moles
Moles, sometimes called birthmarks, are small groupings of cells that look different from the rest of the skin. They can be dark colored or reddish in appearance. Some are slightly raised while others are flush with the skin. Some moles are present since birth (congenital), some appear in the adolescent years, and others show up later in life. Virtually everyone has at least one mole and most people have anywhere from 10 to 40 in various places.
Mole Concerns
Most moles are harmless and don't need constant monitoring, but some need special attention, especially when a patient is at a higher risk of skin cancer. A normal mole will remain unchanged in appearance and is painless. Some moles slowly disappear with time. But when a mole begins to increase in size, change colors, or feel painful, that is a cause for concern. It's a sign that the cells, called melanocytes, may be changing abnormally. An urgent skin exam by your Port Orange and Daytona Beach dermatologist should be the next step. 
What to Watch For
Dermatologists use an acronym called "ABCDE" to determine if a mole may be abnormal. Here is what to check for:
- Asymmetry (meaning that if you drew a line down the center, one side would not look like the other).
- Border irregularities (the edges of the mole look strange or undefined)
- Color changes or differences (a normal mole is one color).
- Diameter (a mole should not grow in size, which is why it's wise to measure its diameter regularly).
- Evolving (one mole that evolves in any other way, including crusting, itching, or bleeding).
Is It Time for a Skin Checkup? 
Your Port Orange and Daytona Beach, FL, dermatologist will confirm if a mole needs special attention. It's up to you to schedule a checkup at the first sign of a potential issue. Call (386) 239-8700 today to schedule a skin appointment with Dr. Jeffrey Heller at the Heller Dermatology Center.